Customer Support
Discounts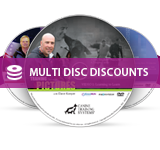 We consider your repeat business our highest accolade and we want you to purchase titles that benefit you and help you achieve your training goals. Our ongoing Multi-Disc Discount is designed with this in mind. When 3 or more of our original titles (denoted with our logo) normally priced $49.95 each or more are purchased at one time, you will save $10.00 per title. This deduction will automatically appear in your secure cart.
We encourage you to pick your own titles and create a bundled solution that fits your needs. If you have a question or need help selecting a combination of complementary products, please give us a call or send us an e-mail.
Note: Many bundled specials offer deeper discounts than our multi-disc discount calculates and are not eligible for further discount.