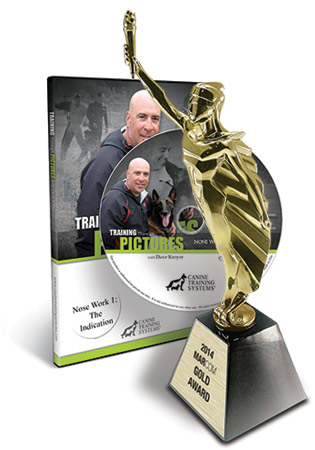 Habits are hard to break. Training Through Pictures with Dave Kroyer- Nose Work 1- The Indication is gorgeous. More importantly, it's full of detail and clear instructional content for training detector dogs. Any dog, any breed, any age, any substance. This title bridges the gap between sport detection dogs in Nose Work and professional applications like police K9 (narcotics and explosives), border patrol and specialized detection like medical alert and biologicals.
It's tough to top the 7X Internation Award Winning prerequisite title, Training Through Pictures with Dave Kroyer- Learning to Learn. This new title is on it's way! We're pleased with the result, a 2014 Marcom Creative Gold Award!
The feedback is tremendous and so far, we've had international orders from Italy, Greece, England, Spain, Japan, Germany, Mexico, South Africa, Australia and New Zealand. The Kiwi's know a good thing when the hear about it!
As always, we truly appreciate your business and hope you enjoy the final product! Thanks for all the feedback, your success through our products is our success.