Customer Support - Toys & Supplies
Toys & Supplies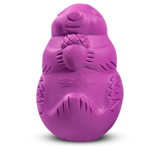 Variations
Dye lot and color variations occur from time to time depending on product and availability. While we make every effort to notify our customers, we do not guarantee against lot color or material variations.
Special Orders/Custom Products
Special order and custom products are sometimes available upon request. We deal with a range of vendors that can provide us with products to your specifications. If there is something you can't find, let us know, and we will try to find it or have it fabricated for you. Special order products aren't guaranteed a delivery time for obvious reasons. We do not accept returns, exchanges or refunds on special order or custom products.