Expert Bio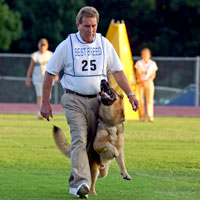 Gottfried Dildei
Expert
Gottfried obtained his first dog at the age of 12 years of age, and has been involved with dog sport for over 45 years. He became a DVG Helper at 16 and by 18 had trained two dogs to Schutzhund III titles. In 1976, he was the youngest person to ever become a licensed dhv/DVG Judge and has been judging club, regional, and national trials ever since. In 1984, Gottfried moved to North America, first residing in Canada where he served as the KG North's president before moving to Florida in 1989.
In addition, he competed in championships at both the Schutzhund and FH levels, winning a LV FH championship in Germany. His current interest these days is in coaching and training others to enjoy the sport of Schutzhund. His expertise and dedication have also been evident in that he has coached many highly competitive and successful teams throughout North America, many of whom have won LV Championships and gone on to compete in and win the Deutsche Meisterschaft; as did Jackie Reinhart with Niko von der Hochantenne (the first American and first woman to do this) in 1988 with 295 pts 'V' & 1989 with 290 pts 'V' and Mary Lou Brayman with Igor von Löwenfels in 1990 with 297 pts 'V'.
Gottfried has been an LV Champion many times in both Germany and, most recently, in North America at the 2006 DVG LV America Championship in Tulsa, OK with Morris. He has competed multiple times at the Deutsch Meisterschaft, SV Bundessieger and most recently at the DVG BSP. In addition, he's competed in both SchH and FH championships in Germany. Gottfried has served the sport of Schutzhund as competitor, certified helper, training coach, training director of four different clubs and as a licensed judge. Additionally, he has held the position of OFS, Counselor and Trainer for the Youth Organization in Germany and as DVG America's Vice President.
The influence of his method has been realized on multiple continents through demand for seminars, high placements and wins of dog/handler teams utilizing his method as well as the mainstream shift toward these techniques in many disciplines. Here, clearly and in full detail, Gottfried takes you through the development of a champion in all phases of the Schutzhund sport.
Tracking
Gottfried's emphasis is on motivating the dog to learn, not forcing him. He demonstrates how to teach the dog to work intensely, confidently and slowly from footstep to footstep, all the way to the end of a successful track.
 
Obedience
Gottfried believes the only way to develop a joyful, exact obedience dog is to teach him from the beginning to work in drive. In these videos he shows how to help your dog to practice only correct animated work.
Protection
Gottfried's secret for creating a hard biting but still well controlled protection dog is to minimize the use of compulsion by teaching the dog to understand his work fully before using any force and to develop aggressive drives at the correct growth stages.
To contact Gottfried, or for more information on dogs, training and seminars, contact:
http://www.dildei.com
GDildei@yahoo.com