Our Team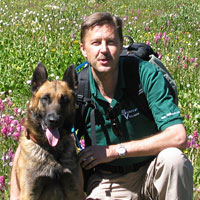 Hartmut Beckmann
Translation / Narration
Hartmut Beckmann began training his first Schutzhund dog at the age of 15 when he joined a DVG club in Lübeck, Germany. His first two dogs were German Boxers, followed by 3 German Shepherds and 2 Malinois. Hartmut trained all of these to Schutzhund III and has competed in well over 200 competitions.
He became a judge in 1980 and has since judged over 250 trials and 20 Championships in North America and Europe. In 1987 Hartmut moved from Lübeck, Germany to Denver, Colorado and joined Centennial Schutzhund Club. Besides being an active club member, Hartmut has served in various positions within DVG. These have included KG President, Chief of Judges, as well as Regional and National Training Director among others, both domestically and abroad.
Hartmut has translated and narrated over 15 of Canine Training Systems titles ranging from Agility to Schutzhund. His vast experience in dog sport coupled with his attention to detail has garnered CTS tremendous accolade for the quality of his translations. Hartmut is a Mathematician by profession and is currently the Senior Systems Engineer for Centurylink in Denver, Colorado.