Expert Bio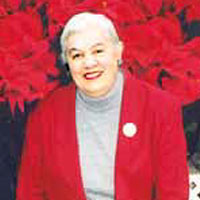 Joan Klem
Expert
Joan has been involved with dogs since the 1940¹s, registering her first litter in 1949. As co-owner of the kennel pre-fix Rodsden, Joan has enjoyed 18 Best in Shows, including the first and second, 32 Best of Breed or BISS or Best of Opposite or Winners at Specialties throughout the United States. She has personally owned, bred, trained and handled Rottweilers in conformation, obedience, tracking, carting and has imported Schutzhund dogs with which she has competed in AKC events. As a graduate from Northwestern University School of Speech and as a teacher, and International Judge, Joan has also found tremendous pleasure in judging Junior Showmanship and takes pride in contributing in this way to the Sport of Pure-Bred dogs.
Joan has traveled to Europe nearly every other year since 1962 to observe and learn about the breed attending multiple Bundessieger, Klubsieger, Leistungsieger trails, Zuchtprufungs and Korungs. Joan also acted as delegate from the Medallion Rottweiler Club (MRC) to the International Federation of Rottweiler-freunde (IFR), was present at it¹s founding and acted as it¹s fourth president from 1995- 1997.
Joan has compiled and presented her video seminar on the breed for judges associations, all-breed and specialty clubs throughout the US and abroad. She has also written and produced Let¹s Talk About Rottweilers which was judged Best Video of the year by The Dog Writer¹s Association of America (DWAA). She also wrote and was greatly involved in the production of The Ultimate Goals for Today¹s Rottweiler and How to Select for Them in conjuction with Canine Training Systems®. She has co-authored with her brother and niece five books on the breed.
How to Raise and Train the Rottweiler (1964)
Rottweiler (1983)
Proper Care of Rottweilers (1994)
The Rottweiler Experience
The Rottweiler Handbook (2002)
Co-editor/contributor to the MRC 10th, 20th, 25th and DWAA Award Winning 30th Anniversary Books
Joan is a judge for Rottweilers and Doberman Pinschers having judged worldwide at many top venues. She has had the pleasure of judging at the:
Colonial Rottweiler Club Specialty 3 times
Rottweiler Club of Canada
Quebec RC and Sovereign RC Specialty twice
Golden State RC supported Beverly Hills show twice
25th Jubilee show of the English RC
Scottish RC
South Australia RC
3rd National Rottweiler Championship of Australia
New Zealand RC
Rottweiler Working and Breeding Assoc. of Transvaal Championship and the South African Championship Specialty
Taiwan RC twice
Trinidad RC
Jamaican RC twice
Tournament of Champions in Mexico
Mexican RC National Specialty
America Rottweiler Club National and many ARC National Specialties
MRC Silver Specialty and 40th Anniversary Specialty
International KC
1998 First Russian RC Specialty
Italian RC National Specialty
El Salvador RC
Dominican Republic RC
Midland RC of England
ARF of Northern California
2003 ARC TOP TWENTY competition
and many All-Breed shows, of course.
Joan has imported many outstanding contributors to the breed including the 1960, 1961 and 1962 Bundesieger, International and AKC Ch. Harras v Sofienbusch, SchH1, Ch. Falco vh Brabantpark, Ch. Dux v Hungerbuhl, SchH1, Ch. Gasto v Liebersbacherhof, SchH1, CDX, TD and Ch. Eppo vd Keizerslanden, CDX, BH, Canadian CD.
To contact Joan Klem, please write, call or e-mail:
Joan R. Klem
1219 Golf Lane
Wheaton, IL 60187
(650) 665-0044
joan@rodsdenrotts.com
http://rodsdenrotts.com/