Expert Bio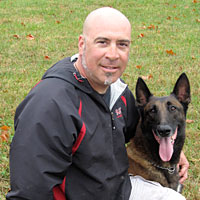 Dave Kroyer
Expert
Dave Kroyer, judge, coach and competitor, has over 15 years of experience in the arenas of Schutzhund, Mondio Ring, French Ring Sport, Police K9, AKC Obedience, Agility, SAR, Nose Work and AKC Tracking. His combined 10 appearances as a World Championship Team member in IPO & Mondio Ring, in addition to multiple National and Regional podium placements, place him in demand for seminars both domestically and abroad. His versatility and success in multiple dog sports with multiple breeds has garnered him the opportunity to help and coach many top competitors in the U.S. and abroad in multiple disciplines.

As a seminar presenter in high demand, Dave presents his multi-dimensional approach to training in a spectrum of dog sports including Ring Sport, IPO, Nose Work, Kennel Club Obedience and Military/Police K9. He has recently presented for Lackland Air Force Base, the home of the military working dog program, and Penn Vet Working Dog Conference on topics ranging from canine/handler communication, obedience, detection work and raising a working dog prospect. His own facility, Canine Headquarters, features training for a range of competitive dog sports as well as pet obedience, dock diving and frisbee dogs.

Our training series with Dave is titled Training Through Pictures for good reason. Because moment markers, in this series a clicker, are a way of precisely identifying correct behaviors in the course of free flowing behavior display, Dave compares marking behaviors to taking snapshots in time, like a photographer would when isolating an image. These snapshots, when consistently coupled with reinforcement, gain importance and allow for incredibly fast transition from novel behaviors to learned ones that can be polished, isolated and put under cue response or built upon for more complex behaviors. Because behaviors are broken down into pieces anyone can identify, the approach is incredibly powerful and user friendly for pet owners, professionals, competitors and class instructors.
Some of Dave's personal accomplishments include:
2015 WDA IPO 3 Championships 2nd Place with Archer (97-91-92 = 280 with Archer)
2015 USA-USCA SCR IPO3 Champion with High Tracking, Obedience and Protection (100-98-96 = 294 V with Archer)
2014 WUSV Team with Archer
2014 USA- USCA SCR IPO3 Champion and HIgh Obedience (Archer)
2013 Spain- USMRA World Team Member (Enoch)
2012 France- USMRA World Team Member (Enoch)
2012 Hungary- AWDF FCI IPO World Team Member (Italo)
2012 USA- SCR VPG 3 High Protection (Italo)
2011 AWDF FCI IPO World Team Captain
2009 USA- USMRA Mondio Ring 1 Vice Champion (Enoch)
2008 SCR VPG CHAMPION High HOT (Rasta)
2007 Italy- AWDF FCI IPO World Team (Rasta)
2007 USA- SCR VPG 3 Champion High HOT (Rasta)
2006 Slovenia- AWDF FCI IPO World Team (Rasta)
2006 Slovenia- FCI World Championship 96 Points Obedience "V" (Rasta)
2006 USCA Nationals 99 Points Protection "V" (Rasta)
2006 SCR VPG 3 Champion HIGH HOT (Rasta)
2005 France- WDA/WUSV World IPO Team (Rasta)
2004 Texas- SCR VPG 1 Champion and High HOT (Rasta)
2003 Italy- WDA/WUSV World IPO Team (Rasta)
2003 USA- SCR FH 1 Champion 100 Points- OFF LEASH (Trixie)
2003 USA- SCR FH 1 2nd place (DAX)
2002 Austria- WDA/WUSV World IPO Team (Dax)
Over 30 IPO 3 High In Trials
5 Different Dogs Perfect 100 Points in Tracking
12 Total FH 1 Master Tracks
3 Total FH 2 Master Tracks
AKC TD
AKC TDX
Enoch van Joe Farm- 7 X French Ring 3 (trained from puppy)
Enoch van Joe Farm- 4 x Mondio Ring 3 (trained from puppy) 2X USMRA World Team
High Mondio Ring 3 San Gabriel Ringers Trial
Multiple AKC agility excellent titles
Multiple NADAC Agility excellent titles
Multiple USDAA Agility excellent titles
AKC Novice, Open and Utility Titles
Some of Dave's student's accomplishments include:
2011 AWDF National Champion
2011 NPCA 1st place Narc Detection, 2nd Place Patrol, 1st Place Overall Police K9
Mondio Ring Champions
French Ring Champions
Multiple IPO Regional Championships
Multiple SCR IPO 3 Championships
Multiple AKC Perfect 200 scores
Multiple OTCH's
Coached Multiple High Scoring Police K9's & Handlers for NNDDA Police Olympic Games
The list keeps going...!
To contact Dave Kroyer:
Dave Kroyer
1-512-868-5810
dj_kroyer@msn.com
 
Training Through Pictures with Dave Kroyer- Nose Work 2- The Search
2016 Telly Bronze Award
2016 AVA Digital Awards Gold Award Winner
Training Through Pictures with Dave Kroyer- Nose Work 1- The Indication
2015 Telly Bronze Award Winner
2015 Hermes Creative Gold Award Winner
2015 21st Annual Communicator Award of Excellence
2015 AVA Digital Awards Gold Award Winner
2014 MarCom Gold Winner
Training Through Pictures with Dave Kroyer- Learning to Learn
2015 AVA Digital Awards Platinum Award Winner
2014 Davey Silvery Award Winner
2014 Videographer Award of Excellence
2014 35th Annual Bronze Telly Award People's Choice Winner!
2014 Communicator Award of Distinction
2014 Hermes Gold Award Winner
2014 DV Awards Finalist