Expert Bio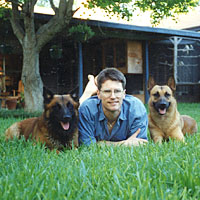 Dr. Stewart Hilliard
Expert
Stewart Hilliard has better than 40 years experience in training companion and working dogs. He began training working dogs in 1980 in Denver, Colorado, when he became involved in German-style sport training and joined the Rocky Mountain Schutzhund Club, where he soon became the Training Director. Shortly thereafter he became a professional dog trainer, and established a reputation as an authority on canine aggression and man-work for both sport dogs and police service dogs. In the mid-1980's he was one of the first Americans to import working-bred Belgian Malinois to the United States, and he traveled widely in Western Europe studying Malinois breeding and the training disciplines of French Ring, Belgian Ring, and KNPV. He was the founder and first president of the American Ring Federation, the first F.C.I.-sanctioned organization for French Ring Sport in the U.S., and he was the first American to receive his Selection (certification) in France as a French Ring Trial Decoy.
He has taught working dog training seminars for sport clubs and law enforcement agencies all over the United States, and also been invited to teach in Melbourne and Brisbane, Australia, Sao Paulo, Brazil, Montreal, Canada, and Beijing, China. He is the co-author, with Susan Barwig, of the very successful training manual Schutzhund: Theory and Training Methods, and has also written and directed many well-received videotapes about sport and service dog training produced by Canine Training Systems®. In 1983, Stewart Hilliard received his B.A. in psychology, and in 1990 he moved to Austin, Texas to enter Graduate School at the University of Texas at Austin, where he studied animal behavior and learning.
He is the author of a number of scientific papers in reputable psychological journals, and in 1997 he received his Ph.D in Behavioral Neuroscience. Dr. Hilliard has worked in various research & development and operational capacities for the Department of Defense Military Working Dog program since 1997, including Chief of the Military Working Dog Course at the 341st Training Squadron, Lackland Air Force Base, Texas. In this role, he managed the basic training of most of the patrol and substance detector dogs supplied to all branches of the U. S. armed forces. Dr. Hilliard also served as Chief of Military Working Dog Logistics and Procurement at the 341st. He directed the testing and procurement of all the dogs purchased for the Military Working Dog Course and the Specialized Search Dog Course. Dr. Hilliard is currently Chief of the Military Working Dog Breeding Program at the 341st Training Squadron.