Our Team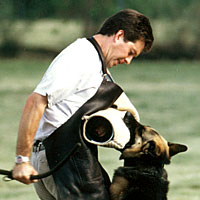 Doug Calhoun
President
Doug's first experience with training occurred in 1975 at the age of 5 with his family dog Daisy. She was a beagle from hunting lines with a gentle, steady temperament. The team failed miserably in obedience class. Equipment for the class was a choke collar and lead and at the age of 5, Doug failed obedience class. The instinct of 'nose to ground' proved too strong for a gangly 5 year old but he persisted. Because of her tremendous scenting ability, Doug would lay training tracks in the yard and then leash Daisy, allowing her to follow the track to conclusion which was, inevitably, the slice of American cheese she'd faithfully pursued. Daisy was useful in locating hamsters and pet rats that would mysteriously and routinely "escape" from the cage only to be found after a "track". Daisy was a beautiful, gentle dog with strong instincts that fueled an interest in animals and shaping behavior that endures to this day.
In the early 80's he bought, How to Train Your Pet Like a Television Star by Hollywood trainer Ray Berwick. The book was a fascinating account of teaching simple behaviors to animals for movies. Using the techniques, Doug's pet cockatiel, Pete, was taught to wave and fly to a target stick with the use of a clicker as a marker. After aquiring a menagerie of pets, the training fever was in full swing. Likely because of the strong hunting instinct of Daisy, he dreamed of having an upland game bird dog that would point and retrieve- a Brittany actually. The instincts they possessed was fascinating, and understanding the innate behaviors of dogs was soon a passion.
Between semesters in 1991, while a Pre-Veterinary Medicine student at Colorado State University, Doug was observing surgeries at a Veterinary office in Littleton, CO. During a lunch break he walked next door into a used bookstore and the first book he saw was a first edition copy of Schutzhund Theory and Training Methods by Susan Barwig and Stewart Hilliard. After purchasing the book, he contacted Sue Barwig and was put in touch with Centennial Schutzhund Club. From that contact on, he made the 140-mile roundtrip drive weekly to train his dog.
In the 90's, after being hired by Canine Training Systems to work and oversee the dogs, he coached multiple USPCA Region 14 Police Dog Champions and titled multiple Schutzhund dogs. He also served as training director for Centennial Schutzhund Club and High Sierra Schutzhund Club in Colorado. In 2000 he achieved Jack Russell Terrier Club of America 'A' Rated Working Judge status for Natural Earthwork. He currently keeps earth-working terriers, having earned many achievements for their success afield.
Doug earned degrees in Behavioral Sciences and Business Management and has been involved in all of Canine Training Systems Award Winning productions, earning over 48 broadcast awards for writing, shooting, editing and graphical design. Adding to an already long list of production industry awards, Doug is gaining his own notoriety and has been named to StudioDaily's esteemed 2016 Top 50 list. The inaugural list was compiled by the leading and award-winning news source for creative digital media, StudioDaily, with a focus on innovation in the production of movies, TV shows, commercials and music videos. It's a tremendous honor to be selected from an incredibly deep pool of content producers.
When not working, he spends his personal time with his amazing wife, 3 brilliant kids and team of working terriers. He enjoys working his dogs, fly fishing, CrossFit and supporting his kids in sports and school activities.  Doug is tremendously grateful for the generosity of the trainers and mentors he was fortunate enough to begin his time with dogs among. Hartmut Beckmann, Gottfried Dildei, Joanne Fleming, Jack Lennig and Nick Stevens were instrumental in shaping his vision of, approach to, and appreciation of working animals and the bond and teamwork that be achieved through positive training techniques.
Advancements in The Randy Hare Detection Method- Detection 4
2018 AVA Digital Awards Platinum Winner
2018 Bronze Telly Award Winner
StudioDaily 50 Honoree
2016 Inaugural Honoree in the StudioDaily 50
Training Through Pictures with Dave Kroyer- Nose Work 2- The Search
2016 Bronze Telly Award Winner
2016 AVA Digital Awards Gold Award Winner
Training Through Pictures with Dave Kroyer- Nose Work 1- The Indication
2015 Bronze Telly Award Winner
2015 Hermes Creative Gold Award Winner
2015 21st Annual Communicator Award of Excellence
2015 AVA Digital Awards Gold Award Winner
2014 MarCom Gold Award Winner
Training Through Pictures with Dave Kroyer- Learning to Learn
2015 AVA Digital Awards Platinum Award Winner
2014 Davey Silver Award Winner
2014 Videographer Award of Excellence
2014 35th Annual Bronze Telly Award People's Choice Winner!
2014 Communicator Award of Distinction
2014 Hermes Creative Gold Award Winner
2014 DV Awards Finalist
The Foundations of Competitive Working Dogs with Joanne Fleming: Heeling, the Recall and Motion Exercises
2011 Hermes Creative Gold Award Winner
2011 Videographer Award of Excellence Winner
2011 DV Award Winner
2011 MarCom Creative Gold Award
On Target: Training Substance Detector Dogs 3
2008 Videographer Award of Distinction
2008 Communicator Award of Distinction
2008 29th Annual Silver Telly Award Winner
2008 Ava Gold Award Winner
2008 Davey Silver Award Winner
2008 MarCom Creative Gold Award Winner
On Target: Training Substance Detector Dogs 2
2005 MarCom Creative Gold Award
2005 DV Award Winner
Two (2) - 2006 27th Annual Telly Award Winner
On Target: Training Substance Detector Dogs 1
2005 Videographer Award of Distinction
Two (2) - 2005 26th Annual Telly Awards
2005 DV Award Winner
2005 MarCom Creative Gold Award
2005 Davey Silver Award
2005 MCA International Bronze Peak Award
2006 The Aurora Awards Platinum Best of Show
Obedience without Conflict with Ivan Balabanov: The Motion Exercises, Recall and Send-Away
2009 MarCom Creative Gold Award
2009 Ava Awards Gold Winner
2009 DV Award Winner
Obedience without Conflict with Ivan Balabanov: The Retrieve
2009 Ava Awards Gold Winner
2009 DV Award Winner
Obedience without Conflict: The Game
2003 Communicator Award of Distinction
2004 Videographer Award of Excellence
2004 DV Award Winner
2004 25th Annual Telly Award Winner
2005 New York Festivals International Film and Video Competition Finalist
Obedience without Conflict: Clear Communication
2003 Communicator Award of Distinction
2004 Videographer Award of Distinction
2004 DV Award Winner
2004 25th Annual Telly Award Winner
2005 New York Festivals International Film and Video Competition Finalist Winner
Grooming the Jack Russell Terrier for Companionship Work and Show with Michelle Ward
2002 Dog Writer's Association of America Best Video Finalist and Runner-Up
2002 MCA International Bronze Peak Award
2002 Communicator Award of Distinction
2002 Videographer Award of Distinction
2003 The Aurora Awards Platinum Best of Show Award
2004 25th Annual Bronze Telly Award
Competitive Agility Training with Jane Simmons-Moake: Obstacle Training
1998 Dog Writer's Association of America Best Video of the Year
Competitive Agility Training with Jane Simmons-Moake: Sequence Training
1998 Dog Writer's Association of America Best Video of the Year Finalist
Competitive Agility Training with Jane Simmons-Moake: Advanced Handling Skills
1998 Dog Writer's Association of America Best Video of the Year Finalist
Clicker Fun with Dr. Deborah Jones- Click and Fix: Positive Solutions to Behavior Problems
1999 Communicator Award of Excellence
1999 Dog Writer's Association of America Best Video Runner Up
Clicker Fun with Dr. Deb Jones- Click and Fetch: The Clicker Retrieve
1999 Dog Writer's Association of America Best Video Runner Up
Clicker Fun with Dr. Deb Jones- Click and Go: Getting Started
1999 Dog Writer's Association of America Best Video of the Year
Gone to Ground: The Jack Russell Terrier
1998 Dog Writer's Association of America Best Video Runner-Up
Simple Pleasures- :30 second broadcast commercial spot- Mulligan's Restaurant
1999 Communicator Award of Distinction