Expert Bio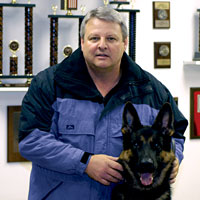 Randy Hare
Expert
Randy Hare started a career with dogs in 1984 prior to becoming a law enforcement officer. While most police dog trainers gain their first experience "on-the-job", Randy realized that in order to truly understand the requirements of the service dog, he needed on the job experience to further his already existing career in dogs- a switch in the realm of service dog trainers. His venture into law enforcement was based STRICTLY in the pursuit of gaining a solid foundation for training the patrol and narcotics detection dog, knowing that being a professional in the dog training field was what he truly wanted.
Randy has gained tremendous knowledge through seminars in Schutzhund as well as the arena of police dogs including those sanctioned by the USPCA and NPCA, at which he has often instructed. As a drug interdiction officer, Randy honed his technique of training detection dogs while working Interstate 20 near the Mississippi - Louisiana state line . Randy has had much success with his method and has received numerous accolades to add to his already impressive resume. Randy has competed in Schutzhund and Police Dog Trials (USPCA, NNDDA, NPCA), and during his 12 years on the job, made over 100 major drug busts (over 50 pounds of Marijuana, Cocaine or Meth) and seized several hundred thousand dollars in cash seizures. Randy holds the belief that every experience he has further builds his knowledge base and that the many trainers he's worked with have lended to his ongoing education.
Through research into techniques of training and the manipulation of drive, temperament and the intelligence of the canine mind, Randy has tempered a system that is CLEAR and PRECISE for both dog and handler. It is tremendously intuitive and dovetails smoothly with other techniques featured by Canine Training Systems. The list of officers, task forces and drug units who sing his praises is lengthy and growing. Utilized by the highest levels of government including the DEA, FBI, Navy Seals, Army Rangers, Border Patrol, Homeland Security as well as military and law enforcement agencies worldwide, Randy's logical system has evolved tremendously. Randy's approach to detector work has garnered tremendous accolade and continues to gain momentum.
Randy Hare's Substance Detection Dog System is now more popular than ever.  With an evolving seminar demographic, Randy is now seeing a new generation of trainer and handler emerge.  His system has likewise evolved and because it is an open, changing system, is applicable to a wider range of substances, including those for civilian detection sports such as Nose Work.  Because both the equipment and technique has evolved, a new series of videos is available to showcase the updates, innovations and steps forward for those who wish to remain on the cutting-edge of detection training.
To contact Randy regarding questions, seminars or dogs, contact:
www.alphak9.com.com/
randy@alphak9.com
Advancements in The Randy Hare Detection Method- Detection 4- NEW
2018 AVA Digital Awards Platinum Winner
2018 Bronze Telly Award Winner
On Target: Training Substance Detector Dogs 1- 2006
2005 Videographer Award of Distinction
Two (2) - 2005 26th Annual Telly Awards
2005 DV Award Winner
2005 MarCom Creative Gold Award
2005 Davey Silver Award
2005 MCA International Bronze Peak Award
2006 The Aurora Awards Platinum Best of Show

On Target: Training Substance Detector Dogs 2- 2006
2005 MarCom Creative Gold Award
2005 DV Award Winner
Two (2) - 2006 27th Annual Telly Award Winner

On Target: Training Substance Detector Dogs 3- 2006
2008 Videographer Award of Distinction
2008 Communicator Award of Distinction
2008 29th Annual Silver Telly Award Winner
2008 Ava Gold Award Winner
2008 Davey Silver Award Winner
2008 MarCom Creative Gold Award Winner