Expert Bio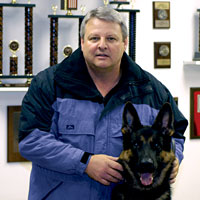 Randy Hare
Expert
Randy Hare started a career with dogs in 1984 prior to becoming a law enforcement officer. While most police dog trainers gain their first experience "on-the-job", Randy realized that in order to truly understand the requirements of the service dog, he needed on the job experience to further his already existing career in dogs- a switch in the realm of service dog trainers. His venture into law enforcement was based STRICTLY in the pursuit of gaining a solid foundation for training the patrol and narcotics detection dog, knowing that being a professional in the dog training field was what he truly wanted.
Randy has gained tremendous knowledge through seminars in Schutzhund as well as the arena of police dogs including those sanctioned by the USPCA and NPCA, at which he has often instructed. As a drug interdiction officer, Randy honed his technique of training detection dogs while working Interstate 20 near the Mississippi - Louisiana state line . Randy has had much success with his method and has received numerous accolades to add to his already impressive resume. Randy has competed in Schutzhund and Police Dog Trials (USPCA, NNDDA, NPCA), and during his 12 years on the job, made over 100 major drug busts (over 50 pounds of Marijuana, Cocaine or Meth) and seized several hundred thousand dollars in cash seizures. Randy holds the belief that every experience he has further builds his knowledge base and that the many trainers he's worked with have lended to his ongoing education.
Through research into techniques of training and the manipulation of drive, temperament and the intelligence of the canine mind, Randy has tempered a system that is CLEAR and PRECISE for both dog and handler. It is tremendously intuitive and dovetails smoothly with other techniques featured by Canine Training Systems. The list of officers, task forces and drug units who sing his praises is lengthy and growing. Randy is a highly sought after seminar presenter, having been contracted to provide his Detector Dog Trainers Course for the Military, FBI Academy in Quantico, VA and Special Forces in addition to police departments on nearly every continent. Randy's approach to detector work has garnered tremendous accolade and in 2010, dogs trained in Randy's technique earned the top 3 placements in the USPCA National Detector Dog Trials. Randy's technique continues to gain momentum and his accolades are ongoing. We welcome Randy to the Canine Training Systems team and applaud his efforts in steering the direction of service dog training.
To contact Randy regarding questions, seminars or dogs, contact:
www.alphak9.com.com/
randy@alphak9.com
On Target: Training Substance Detector Dogs 1
2005 Videographer Award of Distinction
Two (2) - 2005 26th Annual Telly Awards
2005 DV Award Winner
2005 MarCom Creative Gold Award
2005 Davey Silver Award
2005 MCA International Bronze Peak Award
2006 The Aurora Awards Platinum Best of Show

On Target: Training Substance Detector Dogs 2
2005 MarCom Creative Gold Award
2005 DV Award Winner
Two (2) - 2006 27th Annual Telly Award Winner

On Target: Training Substance Detector Dogs 3
2008 Videographer Award of Distinction
2008 Communicator Award of Distinction
2008 29th Annual Silver Telly Award Winner
2008 Ava Gold Award Winner
2008 Davey Silver Award Winner
2008 MarCom Creative Gold Award Winner