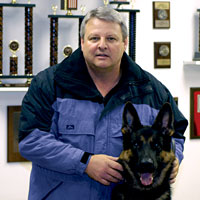 Training Substance Detector Dogs with Randy Hare
About Randy Hare
Randy's experience in training dogs began in the late 1970's and early 80's with hunting dogs. Randy was amazed by the heart, drive and joy that his handful of beagles displayed in working brush piles to search out their quarry. "I remember thinking how cruel it would be to simply deprive these dogs of doing what they absolutely live for", said Randy. In comparing his dogs to others with both less and more drive, Randy realized that the importance of dog selection was paramount when it came to performance.
In 1984 Randy attended a dog trainer's school in Ohio and left feeling as though he'd been taught everything he would need to know to be successful. Shortly after, he opened his first school in Monroe, Louisiana. Randy then trained his first police dog for the Monroe City Marshall's Office as well as a Narcotics Detection dog for the local Sheriff's Department. The police dog finished 15th in the Nation in the USPCA trials held in Detroit, MI in 1985. The Narcotics dog didn't fare so well. Randy realized that in order to instruct police officers and train dogs, he needed some hands on experience.
In 1987 Randy accepted a job handling a self-trained police dog for a small police department when the previous dog-handler team went to work for another department. This new position started a 12-year span of law enforcement, which entailed handling a dual-purpose police dog from the outset. Randy continued to train private citizens and police departments while at the same time attending every seminar and school he could reach. He attended seminars by reputable trainers from any discipline of training in order to broaden his knowledge base and experience a multitude of approaches to training.
In 1990 Randy accepted an offer from a larger sheriff's department and was assigned to the "Criminal Patrol" division working predominantly Interstate 20 near the Mississippi/Louisiana state line. He continued to garner knowledge from reputable trainers in Police, Schutzhund and Narcotics Detection and began competing. While competing with self trained dogs in National competitions Randy later became a judge for the United States Police Canine Association (USPCA) and the National Police Canine Association. He was fortunate to either win or place in 96% of those competitions. As Randy became a more proficient trainer, he was credited for taking huge loads of Narcotics and drug money with 3 different self-trained dogs.
In 1997 he accepted a job from Hinds County Sheriff's Office in Jackson, MS and shortly thereafter in 1998, after 12 years in law enforcement, Randy opened Alpha K9, which enjoys tremendous success through customized training, seminars, a handler school and in providing dogs to many governmental agencies.
Randy is a highly sought after seminar presenter, having been contracted to provide his Detector Dog Trainers Course for the Military, FBI Academy in Quantico, VA and Special Forces in addition to police departments on nearly every continent. Randy's approach to detector work has garnered tremendous accolade and in 2010, dogs trained in Randy's technique earned the top 3 placements in the USPCA National Detector Dog Trials. Randy's technique continues to gain momentum and his accolades are ongoing.
---
NEW- Advancements in The Randy Hare Method of Detection Training Series
In early 2017, we talked with Randy about the design change of his NEW Detection Boxes and what had evolved in his system. Because of the changes in substance legality, questions about handler role, the removal of an "active" alert and seminar questions about his updated presentation, we decided the series was due for a complete overhaul.
This updated series details this new system; it's many changes, improvements, advancements and contains more comprehensive explanation throughout. The main tenets of the system remain solidly rooted in self-learning through the construction and manipulation of environment, self reliance and the critical importance of what Randy originally termed and is now widely and commonly referred to as "obedience to odor".  Whether narcotics, explosives, biologicals or essential oils for civilian Nose Work, Randy's incredibly versatile system can be used for any substance.  Because the Hare Method is a professional detection dog system, many of the intricacies lost in other systems abound here. A very strong emphasis is placed on the dog being completely reliant on his nose while completely ignoring visual and auditory distractions.
---
The Work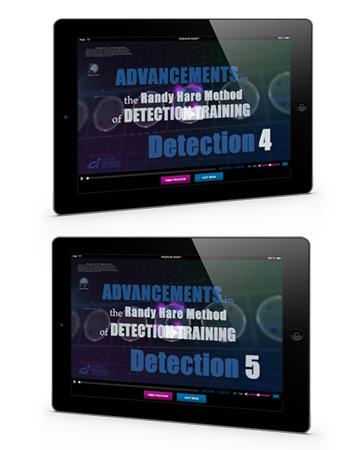 Our overarching goal was to detail information on the the three pillars in Randy's updated system. Because changes included both the new boxes and removable POD, the system can now expand well beyond the box room. From preparation of hides, introducing the dog to an operant indication behavior at source and introduction to the rack, we've paved the way to more global issues. Work ethic is often overlooked and established as a by-product of training however we wanted to face this issue head on and detail more clearly how to establish a smooth cycle of training which is discussed throughout.
Because the dog spends the vast majority of his time away from training, the ability of the handler to influence long term success is also addressed. The handler's role, the details surrounding conditioning game directly (within inches) of source is detailed. Because of the popularity of the system, Dr. Bob Bailey (Animal Behavior Enterprises) investigated Randy's technique. Dr. Bailey is featured throughout and provides insight and clarity to issues of conditioning, environment and many issues that are overlooked by trainers in general and their resolution through the Hare Method.
The updated titles in this new system were filmed in full Hi-Definition in Jackson, MS and Hot Springs, AR with Randy and Dr. Bailey. Across a range of dogs, the details are unveiled and discussed for those who've adopted the Hare Method as well as those who are looking to future proof their departments, training clubs or individual detection services whether professional K9's or civilian detection sport dogs.
Advancements in The Randy Hare Method of Detection Training- Detection 4
Advancements in The Randy Hare Method of Detection Training- Detection 5
---
The "Original" Series

Randy Hare contacted Canine Training Systems in 2002 with interest in making his innovative substance detector dog technique available to others. Our initial thought was, "what's really changed"? After a very few minutes of discussion and a sample video of his dogs working, we realized Randy's technique was very unique. Randy's knowledge base is rooted in many venues of training and he's an avid consumer of information where animal learning is concerned.
Because existing techniques didn't keep pace with advances in other venues of training, we realized that any modern presentation would take a tremendous leap forward. Because Randy utilizes the "laws of learning" and allows the dog to learn through structuring of the environment, the dogs are self reliant and issues of "falsing", "fringe alerts" and handler manipulation are eliminated. Not only were his dogs superior but dog after dog performed at the same incredibly high level. The original Award-Winning video series was completed in 2007 and has been widely regarded worldwide as the most technically sound, reliable and durable detection system available.
---
Achievements
Advancement in the Hare Method of Detection Training- Detection 4- 2017

2018 AVA Digital Awards Platinum Award Winner
2018 Bronze Telly Award Winner

Training Substance Detector Dogs 1- 2006

2005 Videographer Award of Distinction
Two (2) - 2005 25th Annual Telly Award Winner
2005 DV Award Winner
2005 MarCom Creative Gold Award
2005 Davey Silver Award
2005 MCA International Bronze Peak Award
2006 Aurora Awards Platinum Best of Show

Training Substance Detector Dogs 2- 2006

2005 MarCom Creative Gold Award
2005 DV Award Winner
Two (2) - 2006 26th Annual Telly Award Winner

Training Substance Detector Dogs 3- 2006

2008 Videographer Award of Distinction
2008 Communicator Award of Distinction
2008 29th Annual Silver Telly Award Winner
2008 Ava Gold Award Winner
2008 Davey Silver Award Winner
2008 MarCom Creative Gold Award Winner
Products