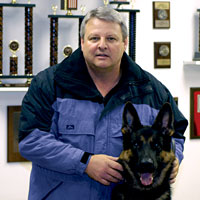 Training Substance Detector Dogs with Randy Hare
About Randy Hare
Randy's experience in training dogs began in the late 1970's and early 80's with hunting dogs. Randy was amazed by the heart, drive and joy that his handful of beagles displayed in working brush piles to search out their quarry. "I remember thinking how cruel it would be to simply deprive these dogs of doing what they absolutely live for", said Randy. In comparing his dogs to others with both less and more drive, Randy realized that the importance of dog selection was paramount when it came to performance.
In 1984 Randy attended a dog trainer's school in Ohio and left feeling as though he'd been taught everything he would need to know to be successful. Shortly after, he opened his first school in Monroe, Louisiana. Randy then trained his first police dog for the Monroe City Marshall's Office as well as a Narcotics Detection dog for the local Sheriff's Department. The police dog finished 15th in the Nation in the USPCA trials held in Detroit, MI in 1985. The Narcotics dog didn't fare so well. Randy realized that in order to instruct police officers and train dogs, he needed some hands on experience.
In 1987 Randy accepted a job handling a self-trained police dog for a small police department when the previous dog-handler team went to work for another department. This new position started a 12-year span of law enforcement, which entailed handling a dual-purpose police dog from the outset. Randy continued to train private citizens and police departments while at the same time attending every seminar and school he could reach. He attended seminars by reputable trainers from any discipline of training in order to broaden his knowledge base and experience a multitude of approaches to training.
In 1990 Randy accepted an offer from a larger sheriff's department and was assigned to the "Criminal Patrol" division working predominantly Interstate 20 near the Mississippi/Louisiana state line. He continued to garner knowledge from reputable trainers in Police, Schutzhund and Narcotics Detection and began competing. While competing with self trained dogs in National competitions Randy later became a judge for the United States Police Canine Association (USPCA) and the National Police Canine Association. He was fortunate to either win or place in 96% of those competitions. As Randy became a more proficient trainer, he was credited for taking huge loads of Narcotics and drug money with 3 different self-trained dogs.
In 1997 he accepted a job from Hinds County Sheriff's Office in Jackson, MS and shortly thereafter in 1998, after 12 years in law enforcement, Randy opened Alpha K9, which enjoys tremendous success through customized training, seminars, a handler school and in providing dogs to many governmental agencies.
Randy is a highly sought after seminar presenter, having been contracted to provide his Detector Dog Trainers Course for the Military, FBI Academy in Quantico, VA and Special Forces in addition to police departments on nearly every continent. Randy's approach to detector work has garnered tremendous accolade and in 2010, dogs trained in Randy's technique earned the top 3 placements in the USPCA National Detector Dog Trials. Randy's technique continues to gain momentum and his accolades are ongoing.
---
The Series

Randy Hare contacted Canine Training Systems in 2002 with interest in making his innovative substance detector dog technique available to others. Our initial thought was, "what's really changed"? After a very few minutes of discussion and a sample video of his dogs working, we realized Randy's technique was very unique. Methodologies up until that time focused primarily on heavy handler involvement in indication and reward presentation. The intrusion of the handler into the actual indication itself leads to unreliability. Further, when the handler delivers reward, unless dealt with carefully the dog is forever looking to the handler for reward. This act alone detracts from the detection response.
Because of the use of the handler as a distraction that must be neutralized in Randy's system, many of the issues that exist surrounding handler involvement are immediately resolved. Further, masking odors (concomitant odors) are dissociated from the odor response during the actual shaping of the initial odor recognition period as well. Because the dog is simultaneously learning what to alert on and how to alert only at the point of odor, his understanding of detection is made crystal clear. All extraneous cues and distractions lose power as the process itself proceeds. Motivate the dog and provide an environment in which one behavior results in reward; seeming simple, the approach is fantastic.
As a student of behavior, Randy has spent a tremendous amount of time and effort attending seminars and classes rooted in the science behind how animals learn and various techniques in training. Through these experiences, Randy has created a system that is technically clean, clear to the dog and easily maintained to an incredibly high standard. What's better is that the dog can search independently and offer 3 (two unique, learned behaviors and one "original" response) at the point of odor. Because the odor reward pairing is classically conditioned, the dog reliably stays at the point of odor through drive, which is inherently unique.
The strength of this conditioning is ideal. Because the dog consistently earns reward and struggles over it in proximity to the odor source, the dog consistently returns to the odor source with the reward because the conditioning is so powerful. It just "feels right". It's incredibly powerful, unique and reliable.
The Award-Winning video series was completed in 2007 and has been widely regarded as the most technically sound, reliable and durable detection system to date.
---
The Work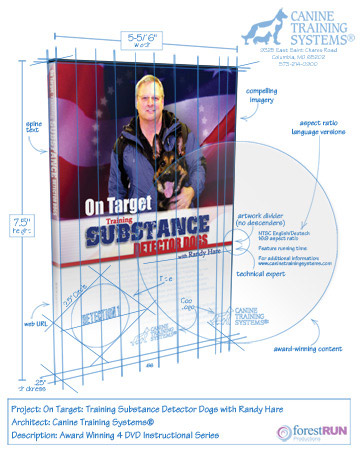 Randy Hare's approach to Substance Detector Dog Training is groundbreaking. The only Award Winning series of it's kind, Randy's approach is decidedly unique, proven and applicable to any substance. Through the use of a Target Box, Randy simultaneously teaches the dog a clear detection response (3 types) while neutralizing concomitant odors. Through uniquely coupling the odor response to fight drive through Classical Conditioning, Randy consistently produces an incredibly successful detector dog that relies on his experience regardless of distraction.
Randy is located in Jackson, MS and location shooting took place at Alpha K9 over 4 video shoots. Because Randy always has dogs in training and has provided fully trained dogs to so many departments, we always had access to finished dogs and dogs in progress. The indoor climate controlled facility contains the box room, offices and kennels. The box room offers the ability to structure training sessions across multiple boxes and scenarios through the use of the training rack and wall racks. Because of the wide range of scents the dogs are neutralized to, nearly any concomitant imaginable is on hand.
The bulk of shooting took place indoors. Much of the early footage was with "green" dogs, a number of which had only been trained fewer than 3 sessions. Because the system works so quickly and with such a high degree of accuracy, it was important to not miss a shot. It was incredible to see a dog put things together during their first session or two and alert on odor in the presence of distracters such as food, coffee, bearing grease and detergent. The lesson would suddenly "click" and the dog would have it. All future indications were correct and durability and extending the search was the focus.
We structured the first two shoots for periods when new dogs would be ready to start working due to the speed at which the progression occurred. It's remarkable to consider that it's a matter of weeks before a dog is fully trained in the method, reliable against distraction, undesirable handler influence, concomitant odors and environmental factors. So many things happen at once, we had to shoot a fair amount of footage to not duplicate shots. When the titles are watched a second time it's apparent how much is happening all at once. Because our finished products average 1,000 media clips per title, it was no small task to shoot and edit them. Most shots contain multiple examples of concepts within a system of training.
The 3 titles were structured across a total of 15 Objectives. Although Randy trains both active and passive alert dogs, the Objectives are all required for every dog, with variation in indication shaping depending on alert type. Randy can train any dog for the passive alert but the dogs in training at the time had a very stoic original response which lended itself naturally to a more passive indication style. It was remarkable to see the shaping of the nose poke and see how quickly the dog would employ the technique to obtain reward. The dog's nose constantly bumping the odor source or pressing it against a door seam was fantastic stuff!
Randy's facility manager, Rodrigo Flores, was incredibly helpful in the productions and participated in many sequences. Only Randy's knowledge and touch with the dogs supersede his understanding of the method and Alpha K9's clientele receives tremendous benefit through his training of many of the dogs that travel great distances to be trained at Alpha K9.
---
The Location
Jackson, Mississippi is the capital of Mississippi and hosts a mix of cultural and ethnic groups that provides a diversity of cuisine and attractions including a zoo, planetarium, museums and music festivals. We worked the majority of our time there with one of our trips taking place shortly after Hurricane Katrina. Fortunately there wasn't much physical damage in Jackson but the effects were felt regardless.
Alpha K-9 is situated in northern Jackson and when visiting, make sure you visit Nagoya Japanese Restaurant and have a Nagoya roll, you won't be disappointed. For more information about Jackson, please visit the city's Tourism Website.
---
Achievements
Training Substance Detector Dogs 1

2005 Videographer Award of Distinction
Two (2) - 2005 25th Annual Telly Award Winner
2005 DV Award Winner
2005 MarCom Creative Gold Award
2005 Davey Silver Award
2005 MCA International Bronze Peak Award
2006 Aurora Awards Platinum Best of Show

Training Substance Detector Dogs 2

2005 MarCom Creative Gold Award
2005 DV Award Winner
Two (2) - 2006 26th Annual Telly Award Winner

Training Substance Detector Dogs 3

2008 Videographer Award of Distinction
2008 Communicator Award of Distinction
2008 29th Annual Silver Telly Award Winner
2008 Ava Gold Award Winner
2008 Davey Silver Award Winner
2008 MarCom Creative Gold Award Winner
Products