Production Suite
Under The Hood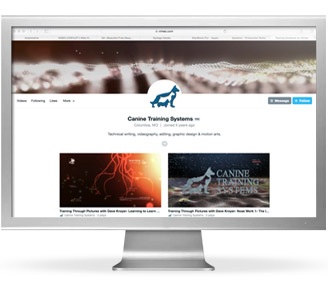 Forest Run Productions®, home of Canine Training Systems® and Avian Training Systems® is a full service production company.
We produce instructional titles, corporates, commercials and broadcast productions. Our crew includes professional scriptwriters, camera crews, narrators, editors and graphic artists. Our professional team has varied backgrounds and specialties, which creates a solid foundation for meeting the changing trends in the production industry.
We look forward to working with you on your next production! Contact Us Today!
Check out samples of our work on Vimeo or explore our 50 Industry Awards including Doug Calhoun's selection for the esteemed StudioDaily 2016 Top 50 list!
Concept development
Script writing
Camera crew and director
Professional narration with male or female voice talent
Complete offline and online editing capabilities
Motion graphics and Animation
File footage
Packaging design and printing
High quality dubbing/replication services
Distribution channels for certain products
Services that Forest Run Productions can provide:
We can produce any length video project from a 30-second commercial spot to a full-length product promotion, training video or corporate communications piece.
With our broadcast quality digital non-linear editing suite, we attain production values that are, quite simply, the best in our field.
Between our technical resources and the talent and experience of our production team, we have built an international reputation that you can take advantage of.

Our current hardware/software includes:
MacPro Tower 2 X 2.66 Quad-Core Intel Xeon "Nehalem" Processors
AJA KonaLHe- HD, SD, Analog & Digital I/O Board
Media 100 Suite (Full 4K HD Capability, Boris RED 3-D Composition, Titling and Effects)
FinalCut Studio 2- FinalCut Pro 7, DVD Studio Pro, Color, Motion, Compressor, Sound
Adobe Master Collection- Full Graphics, Editing, Authoring and Print Design Capabilities
MacBook Pro 3.06 Intel Core i7 Mobile Editing Workstation
MacBook Pro 2.2 Intel Core i7 Mobile Graphics Workstation
JVC GY-HM700UXT ProHD Camera (SXS and SDHC) w/Fuji 17X glass (1920X1080p) with over and under crank capabilities
Sony UVW-1800 Beta Deck
Sony DSR-1500A DVCAM Deck with Component, Firewire I/O, SDHC Input
Yamaha 12/4 Audio Mixer with Digital Effects
Mackie MkII Monitoring Speakers
Flanders Scientific Color Grading Monitors
Sennheiser K6/ME66 shotgun mic/pole
Sennheiser Evolution G3 Wireless mics
Electrovoice VO Mics/stands
Complete Royalty Free/Special Effects Music Library
Lowell and Arri Lighting Kits with Chimera, scrims, flags, gels and Wescott reflectors
Adobe After Effects Production Bundle including:
Video Copilot Element 3D, SureTarget, Sabre, Digi Effects Aurorix, Berserk, Damage, Delirium, Cinelook, Cyclonist, TrapCode Suite (Form, Mir, Particular etc.) and more...
Cinema 4DXL and 3D Studio max 3-D Modeling and Animation
We can do all or part of your production from a simple logo animation to a full-length training video.
Contact Us Today!