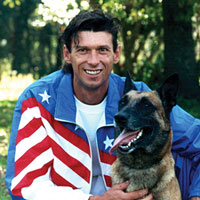 Obedience without Conflict with Ivan Balabanov
About Ivan Balabanov
Ivan Balabanov has won nearly (if not every) major competition in the United States. He has been Vice World Champion with Django ot Vitosha as well as the 2007 FMBB and FCI World Champion with Quenny ot Vitosha, both dogs from his breeding. Ivan is a dominant force in Schutzhund and IPO with a long list of credentials. Ivan has enjoyed success for over a decade not only through competition, but through his ot Vitosha kennel and demand for seminars all over the world.
When Ivan approached Canine Training Systems, he was interested in a video series featuring the same technical quality of past productions with the hope of demonstrating his powerful approach to Obedience. Ivan's approach to dog sport through the techniques in the Obedience without Conflict series have become mainstream with international sales through Canine Training Systems distribution channel on nearly every continent.
Of Bulgarian descent, Ivan came to America in the 1990's and established himself in the San Francisco Bay Area where his techniques and prominence influenced many trainers and placed him in demand as a problem solver and skilled helper. The influence of other Canine Training Systems technical experts, namely AnneMarie Silverton of Stockton, CA and the Competitive Obedience with AnneMarie Silverton series can clearly be seen in his technique and his unique ability to achieve excellence has pushed the sport of Schutzhund and IPO to a new level.
Ivan moved to Florida from the Bay Area for a more suitable climate for year round training and began offering workshops in addition to a heavy seminar load while continuing to gain accolade and a reputation for excellence. The Dog House, LLC is his Florida business among other internet ventures and Ivan has a strong following of devotees worldwide.
---
The Series

Because Ivan's approach to Obedience is based in simplification, the series was relatively straightforward. Although tremendously drawn out due to writing complications, the Award Winning series has been widely successful in both the English and German language. The feedback in both narrated language versions has been tremendous and the titles have garnered accolade internationally from customers in every corner of the world.
Obedience without Conflict with Ivan Balabanov 1 & 2 feature complete German translations while Obedience without Conflict with Ivan Balabanov 3 & 4 feature English, German and Spanish subtitles.
---
The Work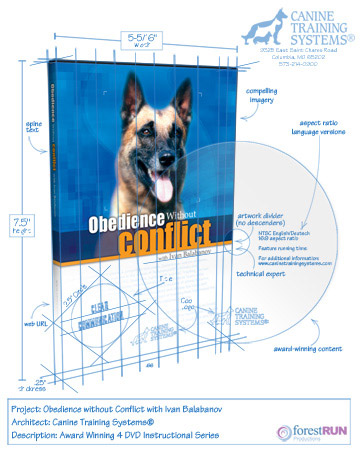 The initial trip to shoot footage was two days and the weather was great. A problem with the rental car company placed us in a convertible Mustang and as you can imagine, the trip was horrible. Sun, coastal breezes and mild April weather, hardly bearable. Plant City is a short distance from Tampa up the I-4 and when temperatures reached their peak in the afternoon, shooting had to be suspended and trips to the beach or a spot with air conditioning was required. In general the weather was good and the dogs performed well.
Another trip a few months later after the first two scripts were completed put us in position to have two Award-Winning titles done in about 3 months. We had already created the branding, graphics packages, had the packaging printed and in hand and DVD motion menus rendered. Production flowed very smoothly.
Both titles earned many broadcast awards and when the German narrations were done, found a strong audience in Europe as well. Obedience without Conflict with Ivan Balabanov: Clear Communication has been a popular title to a wide audience consisting of Agility, Obedience, IPO and Police Dog handlers. Because the information is so critical to any venue of training, it has been a benchmark product for not only Ivan's technique but most modern approaches to training.
The shooting for Obedience 3 and 4 took place in late summer. August in Florida is incredibly hot and humid. We scheduled shoots for about 7:00 a.m. in hopes of getting few hours in before the sun intensified and the dogs suffered. In general terms, the timeline was workable. There were multiple days during which dogs and handlers were ready and gear failed. It was simply too humid and our cameras were flashing onscreen icons we'd never seen before! The "water drop of death" was the indication that it was too humid and 30 minutes under a running heater on the floor of the car had us ready.
We would shoot from about 7 - 10 a.m. then lay low until around 4:30 p.m. and work until we lost light. Because Canine Training Systems titles are "edited" instructional titles and not long seminar type videos, we did struggle to get the detailed content we needed in just a few days with limited dogs and hours of shooting but the end results have been very successful.
---
The Location
Plant City, Florida is 25 miles east of the Tampa Bay area and is known as The Winter Strawberry Capital. It is home to about 35,000 residents. Over ¾ of the nation's midwinter strawberries are produced in Plant City. They host the Florida Strawberry Festival and the city has a large agricultural base. Canine Training Systems President, Doug Calhoun, grew up in St. Petersburg, Florida and remembers the Cuban influence in food and culture. If you end up in Plant City, he recommends The Strawberry Hut, winner of Plant City's best Cuban Sandwich, 2008, 2009, 2010 and 2011. Make sure you get it "all the way"! You won't be disappointed. To learn more about Plant City, check out http://www.plantcitygov.com/.
---
Achievements
Obedience without Conflict 1: Clear Communication

2003 Communicator Award of Distinction
2004 Videographer Award of Distinction
2004 DV Award Winner
2004 25th Annual Telly Award Winner

Obedience without Conflict 2: The Game

2003 Communicator Award of Distinction
2004 Videographer Award of Excellence
2004 DV Award Winner
2004 25th Annual Telly Award Winner

Obedience without Conflict 3: The Retrieve

2009 Ava Awards Gold Winner
2009 DV Award Winner

Obedience without Conflict 4: The Motion Exercises, Recall and Send-Away

2009 MarCom Creative Gold Award
2009 Ava Awards Gold Winner
2009 DV Award Winner
Photo Gallery
Products