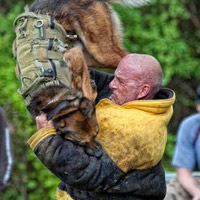 Training the Helper for Police and Military K9's
About Franco Angelini
Franco Angelini has conducted specialized training and consultation seminars in the areas of animal behavior and decoy /helper techniques, explosive-narcotic detection and all phases of utility training nationally and internationally since 1994. His emphasis has been training for K9 Units within Federal, State and Local Law Enforcement, along with all Specialized Military Units.
Franco is a presenter on multiple continents and is in high demand, presenting his techniques over 20 times a year so that host agencies can have a better understanding of animal behavior and canine communication to better train, develop and understand the critical and vital role of the helper in professional K9 service. Since 1989 Franco has assisted in the maintenance and certification of over 900 police K9 teams. He is a certifying agent and 'Master Trainer' for the North American Police Working Dog Association in the areas of Explosives, Narcotics and Utility and specializes in the instruction of animal behavior and decoy techniques.
---
The Series
Coming Soon!
---
The Work
On September 17-20, 2018 we travelled to Larimer County, CO to a Helper Seminar presented by Franco. The seminar spots filled incredibly quickly with around 10 K9 handlers auditing as well. The weather was cooperative and there were multiple agencies in attendance across the Front Range. A range of helper levels of experience were present including attendies of previous seminars. We filmed a tremendous amount of gorgeous HD and aerial drone footage.
We'll continue to update the page as the titles progress...
---
The Location
Larimer County, CO about 1.5 hours north of Denver and is about half way between Denver and Cheyenne, WY. Denver is the capital of Colorado and is rich in history and known for music, the arts, professional sports and outdoor pursuits. Canine Training Systems relocated from Denver in 2006 and the area is incredible! The weather was ideal and we're very pleased with the footage.
If you visit Colorado for a seminar or vacation, I recommend the Visit Colorado website!
---
Achievements
Franco's accolades include:

Guest Instructor, Royal Canadian Mounted Police, 2016, 2017, 2018
Lecture, Police K9 Seminar, Las Vegas, 2016, 2017
Guest Instructor, Lackland AFB, TX., DOD K9 Trainer Schools 2017
Guest Instructor, DND, Canadian Special Operations, Ottawa, Canada 2010, 2016, 2017
Guest Instructor, British Military (SBS), (SAS) Special Operations, Poole, United Kingdom, 2015, 2016
Guest Instructor, US Army Rangers 2009, 2014, 2016
Guest Instructor, USMC, Okinawa – Camp Pendleton 2016
Guest Instructor, Australian (SAS) Military Special Operations, Campbell Barracks, WA, Australia, 2015
Guest Instructor, US Military SOCOM 2009, 2010, 2011, 2012, 2013, 2014, 2015
Guest Instructor, 2003 through 2017 * Multiple US Army Installations - MP K9 Units
Guest Instructor, Canadian Police Canine, Ottawa, Canada 2009, 2010, 2012, 2014, 2015
Guest Instructor, Sydney Police Department 2013
Guest Instructor, Australian Air Force, 2013, 2015
Guest Instructor, Federal (ATF, FBI and Secret Service)
Lecture, HITS K9 Seminar, Denver, Colorado 2007
Lecture, K9 Cop Seminar, Nashville, TN. 2013, 2014, 2015
Lecture, Invictus Law Dog National Seminar, Las Vegas, Nevada 2006, 2007, 2008, 2009
Certifying agent for the US State Department K9 teams, Afghanistan 2009

From 1989 to 2001 served as patrol/explosive handler and as the Trainer for the Harrisburg Police Bureau. A unit made up of ten teams, each trained and served in a dual-purpose role.
Photo Gallery