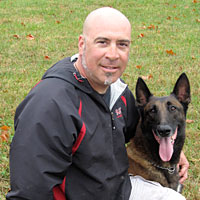 Nosework with Dave Kroyer
Project Update
Training Through Pictures with Dave Kroyer- Nose Work 2- The Search has won:
2016 AVA Digital Awards Gold Award Winner
Training Through Pictures with Dave Kroyer- Nose Work 1- The Indication
2015 Bronze Telly Award Winner
2015 Hermes Creative Gold Award Winner
2015 21st Annual Communicator Award of Excellence
2015 AVA Digital Awards Gold Award Winner
2014 MarCom Gold Award Winner
About Dave Kroyer
Dave began training dogs as a hobby in the early 90's after settling down from a career as a professional musician traveling with billboard acts around the world. While teaching music at a St. Louis, MO area University, Dave rescued a German Shepherd from a local humane society as a companion. His natural affinity in working with animals led to inquiries from neighbors and acquaintances for training assistance. 15 years later, after multiple moves, training experiences, 8 World Teams and a solid track record in multiple dog sports, Dave trains full time with his wife Karen at his business, Canine Headquarters, in Hutto, TX .
When Dave contacted us with the interest in producing a series of videos that would match the quality of work we're known for, we were heavy in production in other projects but felt a series would be well worth the wait. We're very excited to be working with Dave and rate him among the best of the best we've worked with! Dave's approach to training, reputation and range of experiences in multiple disciplines is now being realized on video. A complete dog sport series, Training Through Pictures with Dave Kroyer and The Foundations of Nosework are in production now.
Dave continues to amass accolades while his students continue to demonstrate the power of his approach to training in the arenas of Police K9 and Detection work, IPO, Agility, Kennel Club Obedience and French and Mondio Ring. Dave's clientele includes pet dog owners, sport competitors, service dog owners, Police K9 handlers, AKC Obedience judges, and an array of professional trainers and government agencies who desire his expertise in training, problem solving, retraining and importing. Through Canine Headquarters multiple locations including both a climate controlled 5,000 square foot indoor facility and complete outdoor facility for training, trials and real life scenario training, Dave is able to offer a multitude of services, including seminars, club training, event hosting, importing and his ongoing apprenticeship program.
Dave's emphasis is on establishing a strong foundation upon which any dog-handler team can flourish regardless of discipline. Because real life work and competition injects any variety of variables into the working situation, a strong foundation is paramount to consistency and reliability. Through his foundation training, Dave has proven that dogs can learn critical concepts faster, learn exercise based gymnastic skills correctly and ultimately perform more consistently.
---
The Series
Dave's approach to Nosework is as methodical and practical as his approach to obedience. His technique for Nosework varies only slightly from his approach to in service police k9 scent detection. Proof of the power of this technique is born in the fact that once of his students, with a dog Dave imported, was the 2011 NAPC 1st Place Narcotics Detection, 2nd Place Patrol and overall 1st Place overall K9. Through his many placements with Border Patrol, DEA and active street K9's, Dave's unique approach is constantly evolving. We're excited to be in production on Nosework titles with Dave!
---
The Work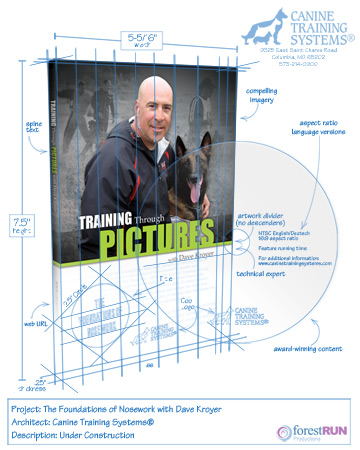 The projects are fantastic and have been incredibly well received. The dogs showcase the method through their incredible indications and their durability at source. We used just a few dogs and the dogs worked incredibly hard. If you're unsure whether this is the method for you, consider that these dogs performed well over 100 searches per day and the result is on video. Consistency, incredibly distraction proof and crazy work ethic.
The Indication, the flagship product in the series with Dave has won 5 International Awards, was shot in gorgeous HD and in an indication first system, which is not only logical but very easy to teach and streamlines the remaining skills in detection. Because the system builds on sub-skills and then compound skills, the method is suitable for any dog, drive level and degree of handler experience.
Video 2, The Search is complete and will be streaming soon. It teaches the remaining skills, expands the work area, and introduces handler detailing. Because Dave uses an odor cocktail, isolating odors, changing container types and discriminating concomitants is easily achieved. These skills are all introduced prior to vehicle searches, introducing handler input and extending the search outdoors and into new environments. The Search has already won a 2016 AVA Award and will be released soon.
---
The Location
Hutto is in central Texas about 4 hours south of Dallas and is part of the Austin-Round Rock metropolitan area on the north side of Austin. Austin is the capital of Texas and is rich in history and known for music, the arts, TexMex, BBQ and outdoor pursuits. We've shot footage in Austin twice now and the town doesn't disappoint! It's tough to decide when to end a shooting day with so much to do and Dave and Karen are fantastic hosts. You should take a minute and check out http://www.austintexas.org/
If you're there for a seminar or vacation, I recommend Iron Cactus and the famous Stubbs BBQ!
Products