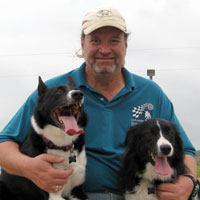 The Foundations of Competitive Jumping
About Gerry Brown and Dave Kroyer
This exciting title is a collaboration between International Competitors Gerry Brown and Dave Kroyer of Texas. Gerry is a well-known Agility competitor and coach and brings a tremendous wealth of knowledge in jumping and shares the critical concepts of teamwork and clarity with Dave's calculated approach to behavioral cross training.
Both masterful in their own right, this title focuses on a foundational approach to jumping across AKC Obedience, Agility, IPO and the Ring Sports. While including all the obstacles used, this dissection of the mechanics and teaching of smooth, correct jumping from a foundational standpoint will make this title an instant classic across a myriad of dog sports!
---
The Series
Due to the tremendous amount of information involved in the mechanics of jumping, we anticipate at least 2 titles. The first title will, tentatively, cover the mechanics of jumping through a single bar or meter hurdle for AKC or IPO Obedience. Because the mechanics of jumping for more advanced sequences require exercises beyond the normal scope required for IPO and basic KC Jumping, the second title will include Gerry and Dave's more advanced approach to jumping for Agility and Ring obstacles through grid work and combination jumping.
---
The Work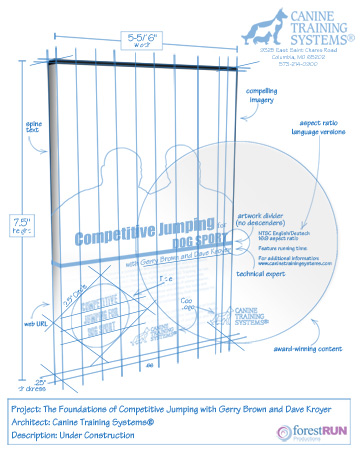 On March 17, 2012 we travelled to Hutto, TX to a Foundations of Jumping Seminar with Gerry and Dave. The 15 seminar spots filled incredibly quickly with around 10 individuals auditing as well. The weather was cooperative and there were a variety of breeds from multiple disciplines. The handlers competed in Agility, IPO, KC Obedience, Mondio and French Ring. Breeds represented were Shelties, GSD's, Malinois, Australian Cattle Dogs, Border Collies and Bulldogs.
The experiences and body types of the dogs was varied. Some dogs were seasoned competitors and others were puppies only physically capable of very beginner work around the obstacles. The initial presentation was largely background information, a discussion of common problems and a dialog about the canine athlete and how best to prepare him for jumping successfully. This dialog included information on diet, conditioning, weight and stretching.
There was discussion about targeting, stride work, styles of jumping and a dissection of common problems and how to achieve success.
The seminar flowed very smoothly and it became obvious that there was simply too much information to present comprehensively. The dogs all worked multiple times with Gerry giving demos of line work and the various patterns he runs for his own competition dogs at the end. Because it's information that Gerry has never before presented, it was very well received and unlike anything the attendees had ever seen. The videos should be incredible. We've never seen this information presented anywhere and Dave and Gerry are masterful in presentation and it's a rarity to get multiple world class dogs from multiple disciplines in one place at a time.
It was beneficial for the attendees to see varying requirements across disciplines to deepen their understanding of jumping. Further, they realized the importance of muscle memory, correct fundamentals, clarity and confidence on the dog's part for a long career in dog sport.
We'll continue to update the page as the titles progress...
---
The Location
Hutto is in central Texas about 4 hours south of Dallas and is part of the Austin-Round Rock metropolitan area on the north side of Austin. Austin is the capital of Texas and is rich in history and known for music, the arts, TexMex, BBQ and outdoor pursuits. We've shot footage in Austin twice now and the town doesn't disappoint! It's tough to decide when to end a shooting day with so much to do and Dave and Gerry are fantastic hosts. You should take a minute and check out http://www.austintexas.org/
If you're there for a seminar or vacation, I recommend Iron Cactus and the famous Stubbs BBQ!
---
Achievements
Coming soon!