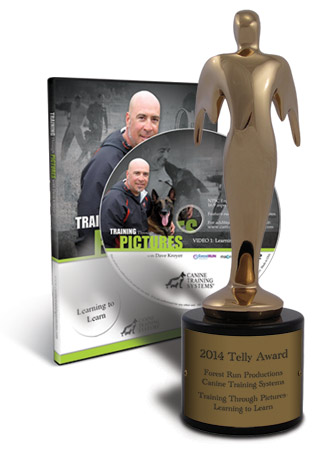 It's nice to get feedback. It's really nice. Success comes in many forms and ultimately what drives us is customer feedback. It's icing on the cake when a product does well among broadcast production industry professionals though. Training Through Pictures with Dave Kroyer- Learning to Learn has won a 2014 Telly Award. The award is nice to win but we're humbled by the comments we've received about the video. It's a long process to produce a quality title, and it's doubtful that many realize what goes into producing one. There are a lot of choices and we realize that.
In addition, the title has already won:
2014 Communicator Award of Distinction
2014 Marcom Gold Award
Word is still out on a few others we've entered, but we're working on the next few titles in the series. We'll update here as we know more. It's a great title and valuable for anyone that trains, regardless of discipline.
From Dave Kroyer-
"Although the DVD took quite a while to produce, the project was a major undertaking for a few reasons. Up to this point in dog sports, no one has really touched on this type of training and theory and the beginning stages are very 'conceptual'. It's not really a 'this is how to teach sit,down,heel behaviors' project. It's something MUCH greater and has many depths and layers to it. It was crucial my info made a clean transfer from outline to script into narration and video. Doug and CTS hit it outta the park!!! It's a beautiful production and I feel the info is ULTRACLEAR! I am super proud of the work everyone has contributed to the project!"
As always, we truly appreciate your business and hope you enjoy the final product!