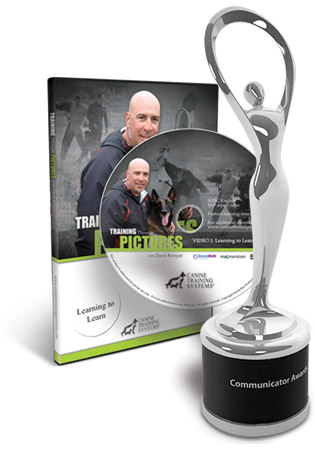 Sometimes it's all about timing. Training Through Pictures with Dave Kroyer- Learning to Learn is gorgeous. It contains 1,500 clips (video, narration, graphics, overlays etc.) and was, like other projects complicated, labor intensive and like a puzzle that needed carefully assembled. Because it's the basis for Dave's detail-rich system of training, it was critical to take the time to explain what is conceptually broad and underlying to nearly everything Dave does for any dog in any dog sport. At 105 minutes in Hi-Definition, it was a balancing act to keep the editing system healthy with multiple titles in the series in production.
The completion of the title coincided with many award competitions for broadcast producers. We anticipated feedback from consumers first with competition feedback trickling in later. We were wrong. We knew the title was good, Dave previewed a rough cut during a Dave Kroyer Academy class and we sent out production roughs to professional videographers, editors and content creators in advance to get feedback. We're pleased with the result, a pre-release 2014 Communicator Award of Distinction!
Other competitions have accepted our entry and we're excited to hear back from them as well. Most importantly, we hope the video helps the individuals that purchase it and use it's content. We made it because of you, for your dog, but more importantly for your team and for dog sport. That's why we do what we do. It takes a long time. It's expensive to produce. It's not easy. It's gorgeous. The DVD's are en route and will ship this week.
From Dave Kroyer-
"Although the DVD took quite a while to produce, the project was a major undertaking for a few reasons. Up to this point in dog sports, no one has really touched on this type of training and theory and the beginning stages are very 'conceptual'. It's not really a 'this is how to teach sit,down,heel behaviors' project. It's something MUCH greater and has many depths and layers to it. It was crucial my info made a clean transfer from outline to script into narration and video. Doug and CTS hit it outta the park!!! It's a beautiful production and I feel the info is ULTRACLEAR! I am super proud of the work everyone has contributed to the project!"
As always, we truly appreciate your business and hope you enjoy the final product!