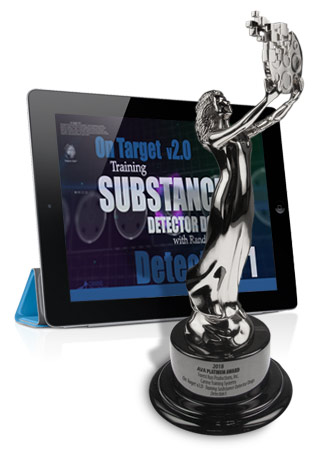 Canine Training Systems Wins a 2018 Ava Digital Awards Platinum Award for
On Target v2.0- Training Substance Detector Dogs with Randy Hare- Detection 1
! As the second title in our new, updated series with Randy Hare nears completion, On Target v2.0- Training Substance Detector Dogs with Randy Hare- Detection 1 has won it's FIRST International Award! We've received tremendous feedback and reviews for this product. Any dog, any breed, any age, any substance. Randy Hare's Substance Detection Dog System is now more popular than ever. With an evolving seminar demographic, Randy is now seeing a new generation of trainer and handler emerge. His system has likewise evolved and because it is an open, changing system, is applicable to a wider range of substances, including those for civilian detection sports such as Nose Work. Because both the equipment and technique has evolved, a new series of videos is available to showcase the updates, innovations and steps forward for those who wish to remain on the cutting-edge of detection training.
This new title is incredibly popular and of the same quality Canine Training Systems is known for! We're pleased with our 2018 Ava Digital Awards Platinum Award- the highest honor awarded!
About The Telly Awards
The
Ava Awards
recognizes outstanding work by creative professionals involved in the concept, writing, direction, shooting, and editing of audio-visual materials and programs. Entrants include video and film production companies, web developers, advertising agencies, PR firms, corporate and government communications departments, producers, directors, editors and shooters. Judges are industry professionals who look for companies and individuals whose talent exceeds a high standard of excellence and whose work serves as a benchmark for the industry. There were 2500 entries from throughout the United States and 17 other countries in the 2018 AVA Digital Awards Competition.
The AVA Digital Awards is administered and judged by the Association of Marketing and Communication Professionals (AMCP), one of the oldest, largest, and most respected evaluators of creative work in the marketing and communication industry. Founded in 1994, AMCP has judged more than 200,000 entries and given away over $250,000 to charitable endeavors. As part of its mission, AMCP supports the altruistic efforts of its entrants by not charging entry fees for work done pro bono.
To learn more about our 49 International Production Awards, please visit our
awards page.
Roll film...