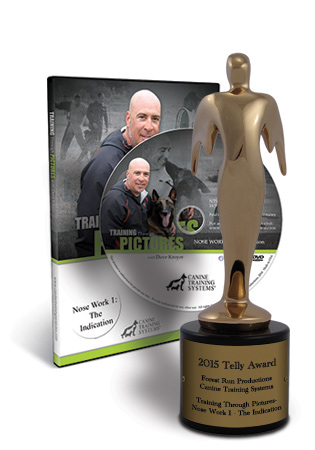 As the second title in our Nose Work series nears completion, Training Through Pictures with Dave Kroyer- Nose Work 1- The Indication has won it's FIFTH International Award! We've both seen and received tremendous accolades for this product. Any dog, any breed, any age, any substance. This title is ideal for sport detection dogs in Nose Work and professional applications like police K9 (narcotics and explosives), border patrol and specialized detection like medical alert and biologicals. In addition to being an award winner, this title, by it's very methodology, circumvents problems created in other methods because of it's logical, linear approach to training. As a backchaining method, each step in the process builds upon the previous so any error in training is incredibly easy to identify and correct. As an immediate byproduct, this title has become the go-to repair manual for "certified" trainers in other methodologies.
This new title is incredibly popular and of the same quality Canine Training Systems is known for! We're pleased with our fifth International Award, a 2015 Telly Bronze Award!
To date Nose Work 1- The Indication has earned:
2015 Hermes Creative Gold Award Winner
2015 Communicator Award of Excellence
2015 Ava Digital Awards Gold Award
2014 MarCom Creative Gold Award
About The Telly Awards
Founded in 1979, the Telly Awards is firmly among the premier awards honoring outstanding local, regional, and cable TV commercials and programs, as well as the finest video and film productions, web commercials, videos and films. The Telly Awards annually showcases the best work of the most respected advertising agencies, production companies, television stations, cable operators, and corporate video departments in the world. The Telly Awards is a widely known and highly respected national and international competition and receives over 12,000 entries annually from all 50 states and 5 continents.
"The Telly Awards has a mission to honor the very best in film and video," said Linda Day, Executive Director of the Telly Awards. "Canine Training Systems' accomplishment illustrates their creativity, skill, and dedication to their craft and serves as a testament to great film and video production." You can learn more about the Telly Awards here.
To learn more about our 45 International Production Awards, please visit our awards page.
Roll film...