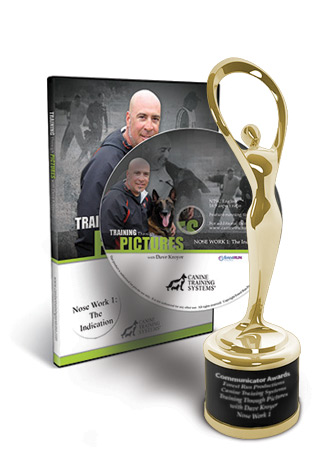 A heavy package arrived in the mail today! Training Through Pictures with Dave Kroyer- Nose Work 1- The Indication has won it's THIRD International Award. More importantly, it's full of detail and clear instructional content for training detector dogs. Any dog, any breed, any age, any substance. This title is ideal for sport detection dogs in Nose Work and professional applications like police K9 (narcotics and explosives), border patrol and specialized detection like medical alert and biologicals.
It's tough to top the 7X International Award Winning prerequisite title, Training Through Pictures with Dave Kroyer- Learning to Learn. This new title is incredibly popular! We're pleased with our third International Award, a 2015 21st Annual Communicator Award of Excellence!
To date Nose Work 1- The Indication has earned:
2015 Communicator Award of Excellence
2015 Ava Digital Awards Gold Award
2014 MarCom Creative Gold Award
We've received tremendous feedback via email and social media. Despite the difficulty in advertising the video anywhere but online, we've had international orders from Canada, Italy, Indonesia, Greece, Hong Kong, England, Spain, Japan, Germany, Mexico, South Africa, Australia, New Zealand, Slovenia, Belgium, Finland, Chile, Panama, Ireland, Czech Republic, S. Africa and beyond. More importantly, our customers are telling us how incredibly their dogs are performing and how quickly they are learning. They're also talking about it with friends and training enthusiasts the world over!
As always, we truly appreciate your business and revel in your success! Your success through our products is our success.
About The Communicator Awards
The Communicator Awards is sanctioned and judged by the Academy of Interactive & Visual Arts, an invitation-only group consisting of top-tier professionals from acclaimed media, communications, advertising, creative and marketing firms. AIVA members include executives from organizations such as Airtype Studio, Big Spaceship, Conde Nast, Coach, Disney, The Ellen Degeneres Show, Estee Lauder, Fry Hammond Barr, Lockheed Martin, MTV Networks, Pitney Bowes, rabble+rouser, Sotheby's Institute of Art, Time, Inc, Victoria's Secret, Wired, and Yahoo! To learn more about the AIVA please visit www.aiva.org.
"The Communicator Awards honors work that transcends innovation and craft - work that made a lasting impact. The Award of Excellence, the highest honor, is given to those entrants whose ability to communicate positions them as the best in the field." You can learn more about the Communicator Awards here.
To learn more about our 43 International Production Awards, please visit our awards page.
Roll film...