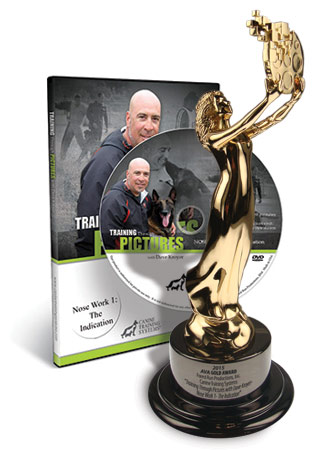 The mail has been full of good news lately. Training Through Pictures with Dave Kroyer- Nose Work 1- The Indication has won another International Award. More importantly, it's full of detail and clear instructional content for training detector dogs. Any dog, any breed, any age, any substance. This title bridges the gap between sport detection dogs in Nose Work and professional applications like police K9 (narcotics and explosives), border patrol and specialized detection like medical alert and biologicals.
It's tough to top the 7X International Award Winning prerequisite title, Training Through Pictures with Dave Kroyer- Learning to Learn. This new title is incredibly popular! We're pleased with the result, a 2015 AVA Digital Awards Gold Award!
We're really happy with the title and so are our customers, we've had international orders from Italy, Greece, England, Spain, Japan, Germany, Mexico, South Africa, Australia, New Zealand, Slovenia, Belgium, Finland, Chile, Panama, Ireland and beyond.
As always, we truly appreciate your business and hope you enjoy the final product! Thanks for all the feedback, your success through our products is our success.
About The AVA Digital Awards
The Ava Awards recognizes outstanding work by creative professionals involved in the concept, writing, direction, shooting, and editing of audio-visual materials and programs. Entrants include video and film production companies, web developers, advertising agencies, PR firms, corporate and government communications departments, producers, directors, editors and shooters. Judges are industry professionals who look for companies and individuals whose talent exceeds a high standard of excellence and whose work serves as a benchmark for the industry. There were 2500 entries from throughout the United States and 17 other countries in the 2015 AVA Digital Awards Competition.
AVA's Digital Platinum Award is presented to those entries judged to be among the most outstanding submissions in the competition. Platinum Winners are recognized for their excellence in terms of quality, creativity and resourcefulness. About 15 percent won this award. The Gold Award is presented to those judged to exceed the high standards of the industry norm. Approximately 18 percent were Gold Winners and 8 percent received Honorable Mention recognition. You can learn more about the AVA Digital Awards here.
Roll film...